The '40s
The '50s
The '60s
The '70s
The '80s
The '90s
The 2000s
Our story began way back in the '40s, when a young Lombard businessman, Mario Pavesi, opened a small outlet on the Milano-Torino motorway (by the Novara toll station) to sell biscuits produced in his family's factory.
1947
Mario Pavesi's store already had the characteristics of the future "Autogrills": a bar with tables and chairs and a pergola outside offering customers a comfortable rest instead of simply selling products. This was the start of a long story.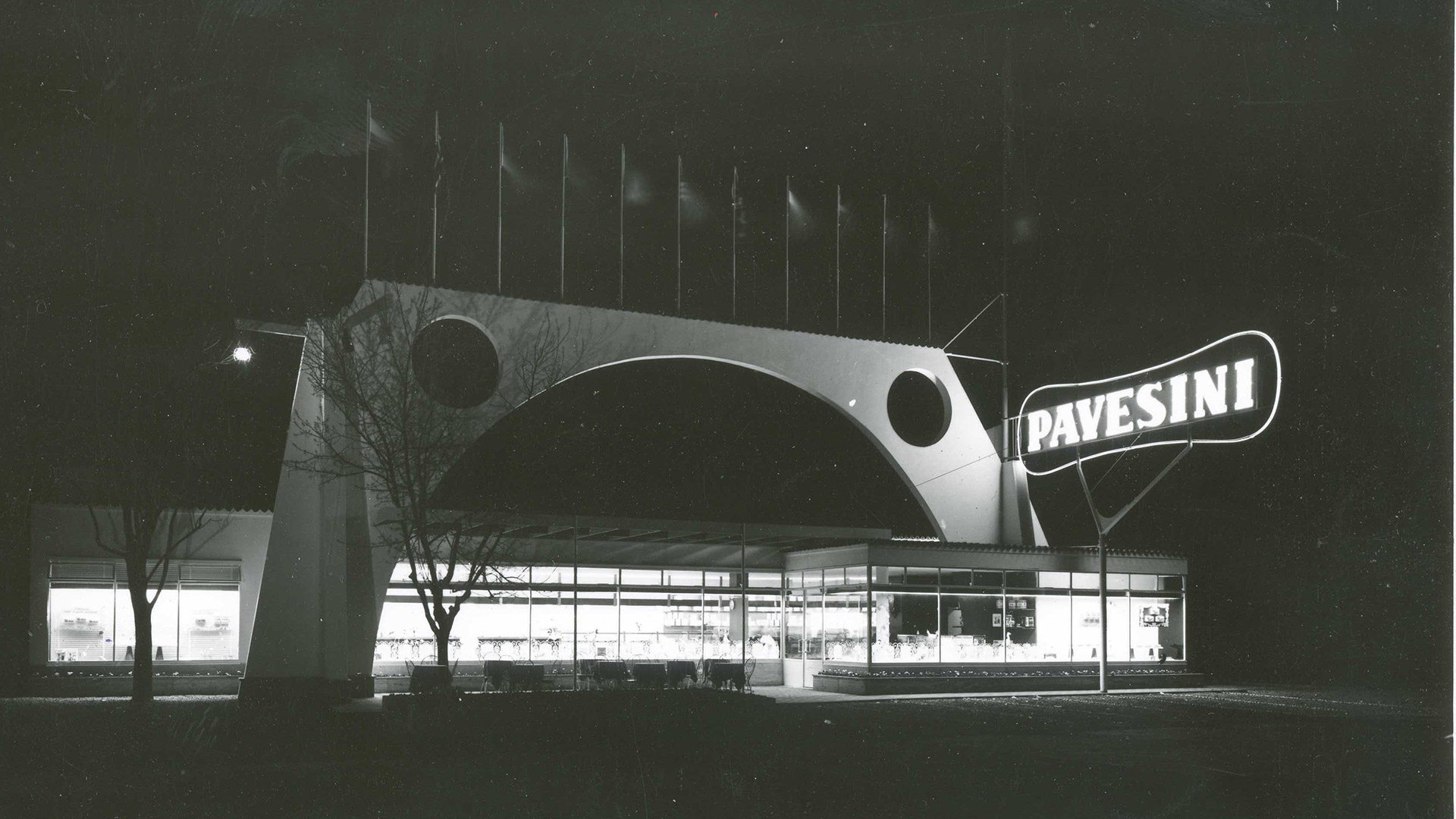 These were the years of the economic boom and affordable cars enabling people to start travelling more. The Autogrill Bar Pavesi on the Milano-Torino motorway evolved in step with new styles of living and spending: it had a restaurant and became the first real service area for motorists in Italy.
From then on, motorway service areas multiplied: not just the Autogrill Pavesi brand but also Motta-grill and Autobar Alemagna.
1958
1958 saw the opening of one of our most representative Autogrills: Villoresi Ovest, on the Milano-Laghi motorway, an impressive building designed by architect Angelo Bianchetti, with a circular floor plan, large spaces and glass walls. Immortalized by its futuristic tripod structure.
1959
Autogrill makes history by opening Europe's first foodservice "bridge", the Autogrill at Fiorenzuola d'Arda. Nicknamed the "Transatlantico" by its designer Angelo Bianchetti, it arches 5.5 metres above the Milano-Bologna motorway and is around 70 metres long. It was built in a record 4 months.
It was around this time that travel channels ceased to be mere communication lines and became destinations in their own right.
The opening of the Fiorenzuola d'Arda Autogrill on 31 December 1959 was attended by the then Interior Ministry Undersecretary Oscar Luigi Scalfaro, as well as Mario Pavesi and Angelo Bianchetti.
Over a dozen Autogrill "bridges" were built in the coming decade or so.
The motorway as a destination
Society was changing and so were spending habits: people wanted to be able to choose from a wide variety of products and flavours. So they went to the bridge Autogrills for Sunday lunch, watched the traffic flowing beneath the long windows and shopped at the "bazaar" (now called market), which sold products advertised on the first TV programmes.
Motorways were no longer seen as mere travel routes but as destinations in their own right.
1961
Opening of the Cantagallo Autogrill (still Motta-grill at the time), a colossus, the biggest in Europe, dominating the Autostrada del Sole (Motorway of the Sun) between Bologna and Florence.
A service area in every sense, having a large restaurant, a market, a pastry shop and even a hairdresser's and a florist.
These were the years of motoring for the masses: Italy's motorway network, now topping 3,900 km, had over 200 service stations.
1977
The year in which Autogrill the company was formed by the merging of the Pavesi, Motta and Alemagna motorway businesses, by the Istituto per la Ricostruzione Industriale (IRI), the Italian state holding company . To avoid confusing customers, the three labels lined up alongside one another instead of being immediately replaced by Autogrill.
Increasingly wide offering
The '80s marked the emergence of consumerism, which for Autogrill was a challenge to evolve in step with a society in continual change.
Diversification of the offering and multibrand operations were the key strategies for satisfying our consumers.
1981
The launching of Ciao, the first self-service restaurant, and also of our most iconic sandwich, the Camogli, which was the first sandwich to anticipate consumer demand and replaced traditional bread with interesting alternatives, like focaccia.
1989
The launching of Spizzico, an innovative pizza service formula bringing together the world's best loved Made in Italy product and American fast-food service.
At the beginning of the '90s, the motorway foodservice market in Italy was in excellent shape and the most flourishing in Europe. These were the years in which Autogrill expanded abroad and became a fully private company. In 1995, the Benetton family became the majority shareholder and in 1997 Autogrill was listed for the first time, on the Milan stock exchange.
1996
Launching of the Rustichella.
1999
Autogrill acquires the American HMSHost to become a global player operating across four continents it established a presence in 4 continents as a market leader, with a unique range of products and services across all travel segments, from motorways to airports, railway stations and downtown museums.
The importance of sustainability.
From 2000 on, spending habits start changing again. Travel terminals are no longer places of mere transit but destinations to be enjoyed around the clock. Consumerism restyles itself to criteria that are ethical, social, qualitative and sustainable. The foodservice sector is no exception and Autogrill has been inspired by these principles ever since.
2013
On 13 June, the opening of Villoresi Est on the A8 Milano-Laghi motorway, near Lainate, opposite its big brother, Villoresi Ovest.
Its unmistakeable, futuristic volcano shape makes this Autogrill one of a kind in terms of design and, above all, its focus on environmental impact.
2015
Autogrill opens Mercato del Duomo, its flagship in the pulsating heart of Milan, with exclusive views of the Galleria Vittorio Emanuele II on one side and of the cathedral spires on the other. Four floors dedicated to taste and sophistication in flavours.
2018
2018 sees the launching of Autogrill Più, based on the model of urban food courts featuring different types of business operating side by side in a single structure, offering our customers a richly genuine experience.
Autogrill Più was developed to work even closer to travellers' needs, with services tailored for those taking a quick break and those, on the other hand, who want a more relaxing stop-off. So there's also plenty of room for health-oriented solutions and street food.
2019
The year in which sustainability becomes the keyword in terms of both awareness of environmental impact and efficiency.
Autogrill launches WASCOFFEE®, a circular economy project exploring ways to recycle one of the most symbolic raw materials in our business: coffee. WASCOFFEE® is a 100% natural and recyclable material created by us at Autogrill using coffee-grounds recycled to make eco-design furnishings for our points of sale.
In the same year, Autogrill partners up with AIRLITE to use their 100% natural paint that purifies the air by eliminating pollution from vehicle traffic. Applying Airlite on a surface of 100 m² reduces atmospheric pollution as effectively as the same area planted with long-trunk trees.
2020
In a year of global adversity, Autogrill's imperative is to guarantee maximum safety for its customers and employees whilst maintaining the high quality of its products and service.
So Autogrill once again revolutionizes travel foodservice, by launching Click & Good, an online service enabling customers to order and pay from their smartphones and pick up their order in total safety, in a matter of minutes, in the location of their choice.
And in November, the famous Autogrill built in 1958, Villoresi Ovest, reopens after being fully renovated and renamed Autogrill 1958 in honour of its glorious past.