The most photographed Autogrill in the world
Villoresi Ovest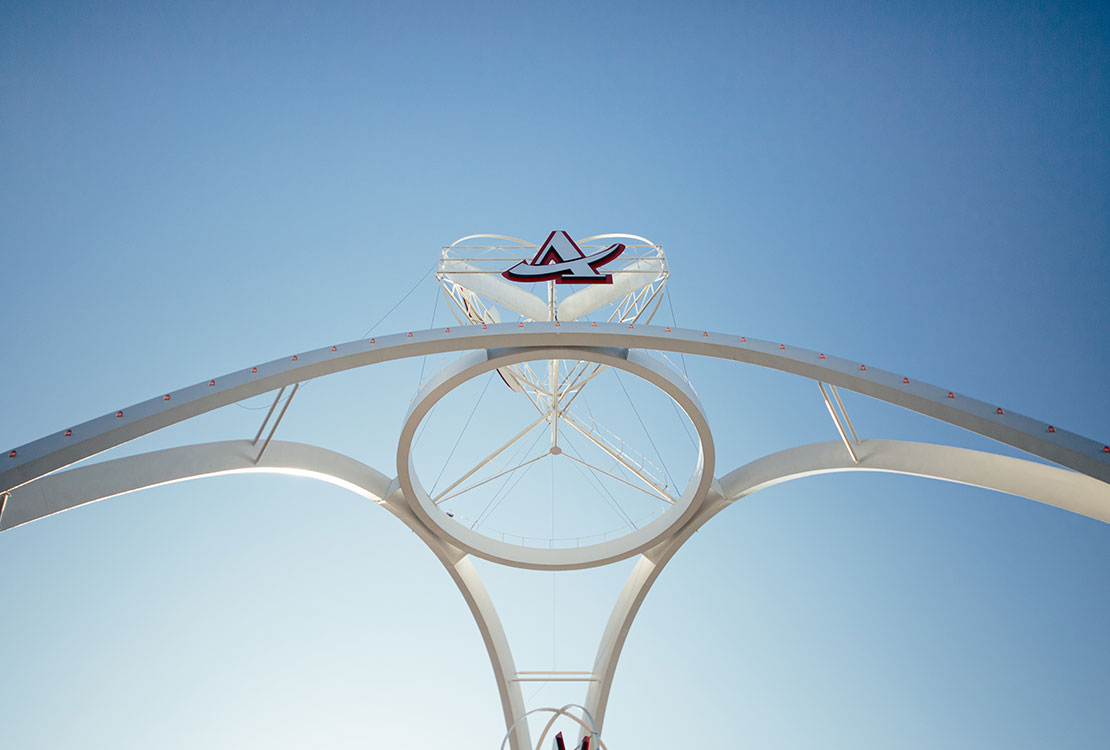 Services:
Bar Snack
Self service restaurant
Credit cards accepted
Digital payments
Take-away
Disabled access
Toilets
Baby Room
Kid's play area
Dogs welcome inside
Between past and future.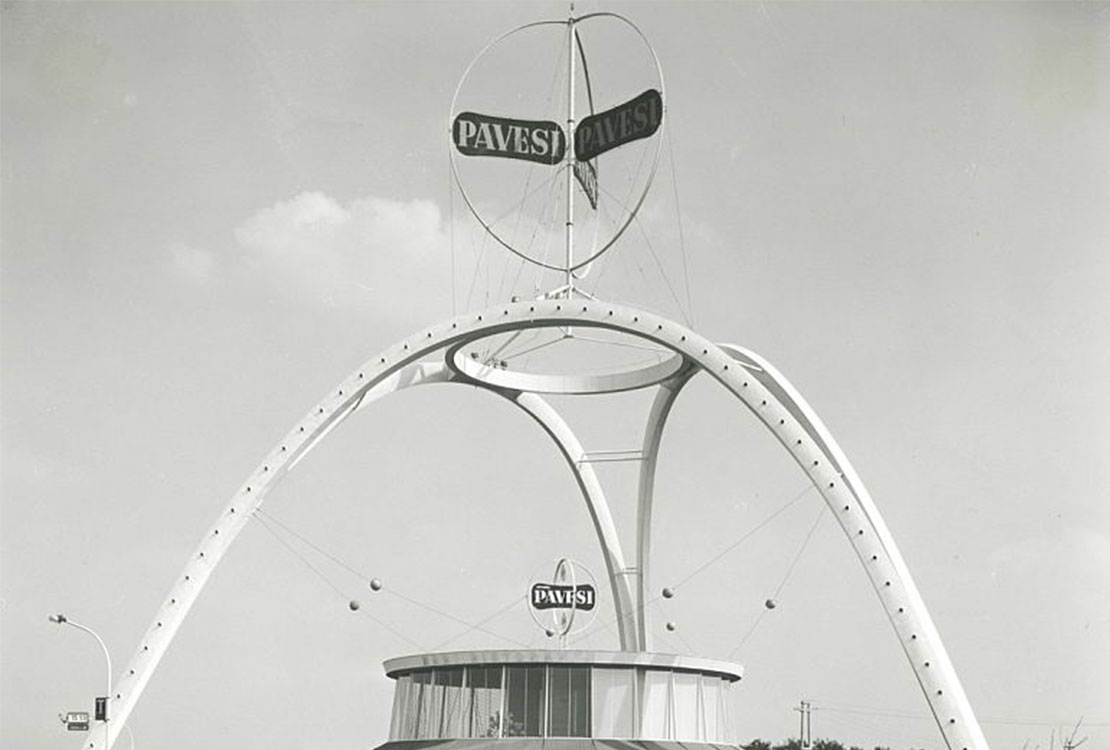 The project (architects Andrea Langhi Design) retained the proportions and dimensions of the original structure.
On the outside, the original arching tripod visible from a long way off has been maintained and given LED lights that change colour and increase its night-time visibility. The truncated cone shaped central building was rebuilt with modern, high energy efficiency materials such as insulating glass units with UV filtering film between the panes.
The materials for the interiors are in line with the traditions of Italian design, such as walnut, marble and brass, and combined with innovative, eco-friendly materials and systems and modern, technological communication instruments. The original baroque-style teardrop chandelier in the middle of the dining area has been restored and fitted with LED lights to reduce its energy impact.
Focus on sustainability
Autogrill wanted a strong connection between tradition and innovation in a building with state-of-the-art technologies.
Autogrill 1958 has high-performance thermally insulated glazing, a high energy efficiency climatization system and hot water supply for washing equipment to cut the use of electrical resistances by 50%. Toilets are flushed by rainwater drawn from a well, which appreciably reduces industrial water consumption.
The air conditioning units use natural cooling for ventilation and changing air when outside conditions are optimal, thus reducing use of the climatization system.
Other energy saving features at Villoresi Ovest include remote regulation of systems to guarantee maximum indoor comfort and avoid wasting electricity. There is also a 20 kW solar power plant to self-produce the energy requirement of the various services. Both indoor and outdoor lighting is provided by low-consumption 100% LED technology.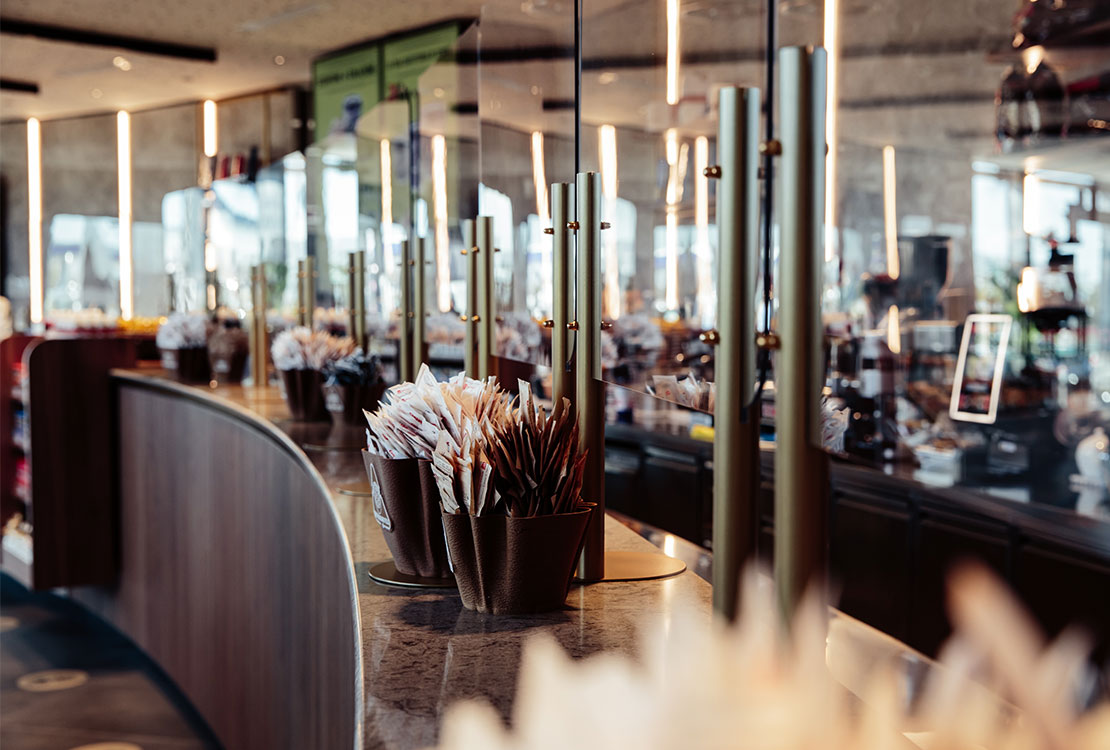 INNOVATIVE MATERIALS AND CIRCULAR ECONOMY
Active Ceramic tiles with certified bactericidal and antivirus properties, even in the dark (thanks to the silver ions in their composition) and Airlite paints capable of eliminating pollutants were used in all the flooring and wall coverings.
The furnishings are made of eco-sustainable materials produced by recycling waste from Autogrill points of sale. The central island and panelling, for example, are in WASCOFFEE®, a material obtained from coffee-grounds developed and patented by Autogrill.
Another exclusive material obtained from waste (juiced oranges in this case) is WASORANGE® (technological partner: KRILL Design). It was used, for the very first time in fact, to fashion some unique design items: the sugar sachet containers in the restaurant.
Find out why WASCOFFEE® is so special
COLLABORATION WITH COMETA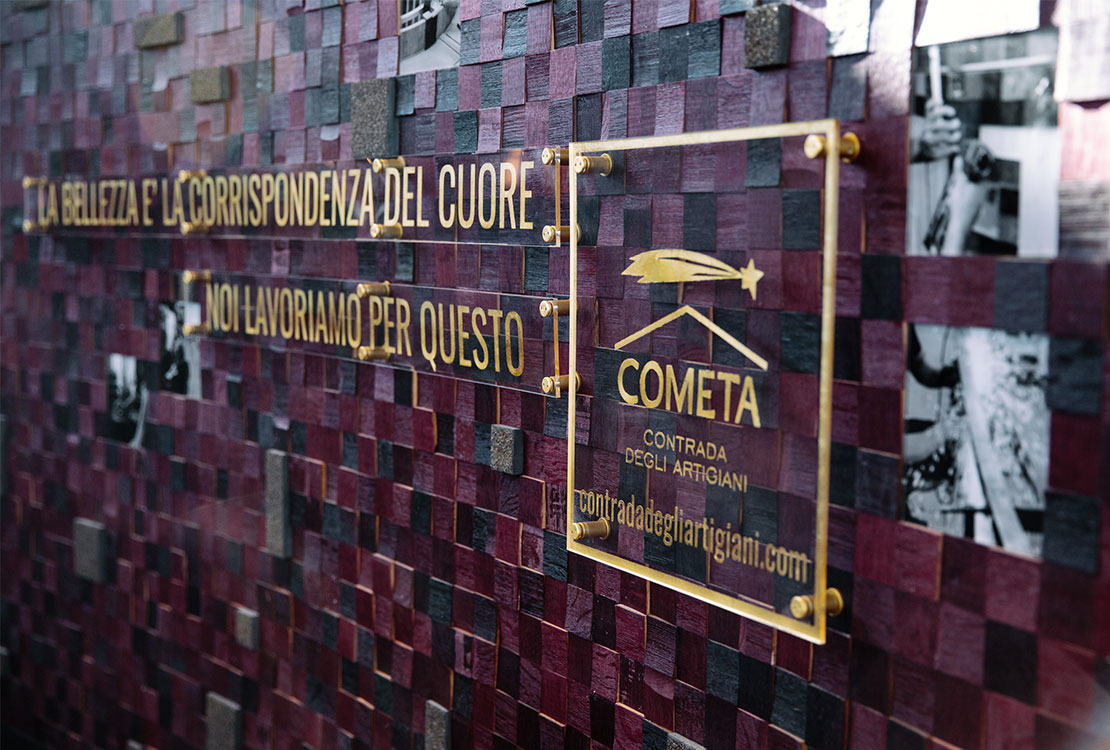 In this recycling context, one of the project's partners was Cometa, which specializes in hospitality for and education and training of children and young people in difficult situations. Through its "Contrada degli Artigiani" (artisans' district), Cometa produced the large barrique wood table in the middle of Villoresi Ovest's restaurant, underneath the famous chandelier. The table's design is based on original combinations of prestige, antique and waste materials like wood from old wine barrels and cullet from Murano glass production, an aesthetically perfect trade-off between craftsmanship and reuse of materials.